Promenade Gallery
Available as Framed Prints, Photos, Wall Art and Gift Items
Choose from 2 pictures in our Promenade collection for your Wall Art or Photo Gift. Popular choices include Framed Prints, Canvas Prints, Posters and Jigsaw Puzzles. All professionally made for quick delivery.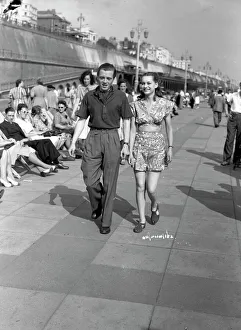 Featured Print
Brighton Rock (1947) publicity
Richard Attenborough and Carol Marsh enjoy a stroll during a pause of the filming of Brighton Rock.
© Copyright © Studiocanal Films Ltd
1930s Style, 1940s, Behind The Scenes, Black And White Image, Brighton Rock 1947, Carol Marsh, Crime, Gangster, Legs, Mystery, Out Doors, Publicity, Richard Attenborough, Stroll, Thriller, Walk