Gary Warren Gallery
Available as Framed Prints, Photos, Wall Art and Gift Items
Choose from 1 pictures in our Gary Warren collection for your Wall Art or Photo Gift. Popular choices include Framed Prints, Canvas Prints, Posters and Jigsaw Puzzles. All professionally made for quick delivery.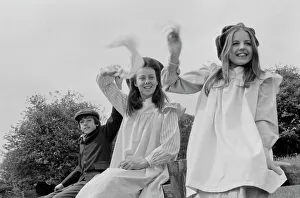 Featured Print
The Railway Children (1970)
Gary Warren, Jenny Agutter and Sally Thomsett all wave handkerchiefs during the filming of The Railway Children directed by Lionel Jeffries.
© Copyright © Studiocanal Films Ltd
1970s, 19th Century Style, Black And White Image, Children, Drama, Family, Gary Warren, Handkerchief, Jenny Agutter, Out Doors, Production, Railway Children 1970, Sally Thomsett, Wave